Guarantee entry online
Flexible Rescheduling
Instant e-Ticket
Guarantee entry online
Flexible Rescheduling
Instant e-Ticket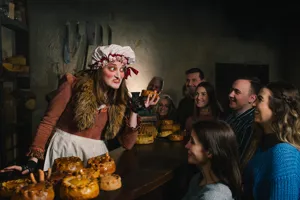 Groups (un)welcome
The London Dungeon is most fun in a group of people you know, more laughter, more banter and the opportunity to watch friends or foes (sorry, work colleagues) be singled out!
We love groups, which is why if you are in a group of 10 or more people, we'll do the right thing and offer you up to 35% off on advance ticket purchase. Yes, we're all about group love!
Draw in your mates, colleagues, special interest group, social club, fellow scouts, guides, your family and other (not-so) loved ones. Or organise your friend's hen or stag party at The London Dungeon!
All you need is 9 other traitors to make the saving. PLUS, you will guarantee your show time by booking in advance. AND we guarantee you will see, hear, feel and (ahem) smell the plague-ridden streets of 1665, the Great Fire of London in 1666 and the gas lit streets of London's Whitechapel in 1888. At the end of the tour a tipple in the Dungeon Tavern awaits.
We sell out quickly on the day so be sure to book in advance to avoid disappointment!
Book your tickets now!
Getting here…
By Coach: Coach drop off and pick-up bays are available on Belvedere Road next to the London Eye and Jubilee Gardens. You will need to book a coach parking bay in advance of your arrival. This service is free, but space is limited. Your booking gives you twenty minutes to drop off and pick up your group. You will need to book in advance. 
By Underground: Within walking distance of Westminster, Waterloo or Embankment.
By Train: A 5 minute walks from Waterloo or 10 minutes from Charing Cross.
Please note - although we endeavour to seperate larger groups for an exclusive tour, we cannot guarantee this and there may be other guests on your tour.