ESCAPE ROOM
Can you escape the hangman's noose?
You've got 60 minutes to evade the guards and escape Guy Fawkes' cell
The Tower of London might seem like a watertight stronghold...
...with it's intimidating gates, a mighty moat and fearsome beefeaters. But escape has been proven possible by some 40 cunning prisoners in the past - will you join them?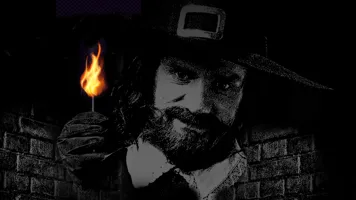 Got what it takes?
You've been found guilty of conspiring against the king with Guy Fawkes. The soldiers have captured you in the local tavern and you've been taken to the Tower of London where you'll be tortured and hanged.
Lucky for you, your trusted friend Guy Fawkes has left clues behind to assist you in your escape!
But BEWARE peasant... the prison guards routinely check the cells so you're going to have to be quick. If you're found escaping it could be game over...
Show summary
Under 16s accompanied by an adult
Drop ride height restriction
Tickets & Prices
Total room price is £120. Individual price is dependent on the number of players in your group (2-6 people). The more players you add, the more you save per person!
| | |
| --- | --- |
| Group of 2 | £60pp |
| Group of 3 | £40pp |
| Group of 4 | £30pp |
| Group of 5 | £24pp |
| Group of 6 | £20pp |
|   | Total £120  |
Entry to the Escape Room experience for a 60-minute adventure
Private game for 2-6 players per room. The more people you add, the more you save per person!
This ticket does not include entry into the London Dungeon tour, which must be purchased separately
FAQs
Games are designed to suit the whole family and range in difficulty. Puzzles are mostly logical based with some physical tasks. A good understanding of English is essential to make the most of the experience.
You will have 60 minutes to escape the tower but please allow 90 mins for the full experience.
No, all tickets must be pre-booked at least 48+ hours in advance of arrival
Our venue is open to 5+ but we recommend age 12+ to make the most out of this experience. Please note, under 16s must be supervised by at least one adult.
Anyone under the age of 16 years old who arrives unaccompanied by an adult will be refused entry into the Escape Room.
There is no height restriction for the escape room but the experience ends with a drop ride which requires a height of 1.40m. This ride is optional to partake in.
You are required to arrive 15 minutes before your time slot as we will not be able to accommodate any late traitors. If you arrive later than your start time, your spot will be forfeited, and you will not receive a refund.
You will be collected from admissions and brought to the Tavern for your sentence.
The date and time you select when booking is for the Escape Room only. The London Dungeon tour is not included in your ticket.
If you wish to visit the Dungeon on the same day, you will then need to book your entry date and time separately. We advise booking at least 2 hours before or after your Escape Room experience. Please see opening times.
We might be tricksters, but your safety is always our number one priority. If you are experiencing an emergency, medical or...erm...otherwise, we'll let you leave. Escape room games will be monitored at all times - if you need assistance, just screeaam!
Please arrive at the London Dungeon front of house ticket office 15 minutes before your game begins. You will then be escorted to the Tavern where you'll be briefed for your experience. 
Please note, the Escape Room bookings are non-refundable/transferable.