See More, Save More! Enjoy up to 55% off
Flexible Rescheduling within 90 days
Manage your booking via our booking portal
See More, Save More! Enjoy up to 55% off
Flexible Rescheduling within 90 days
Manage your booking via our booking portal
See more, save more with our online multi-attraction passes, saving compared to purchasing tickets separately.
Select your combo ticket below
The time slot booked is for entry to the London Dungeon only
You have 90 days to visit the remaining attractions at your own leisure. Please ensure you book a free timed-entry ticket before you visit each attraction, using our booking portal
You can reschedule your tickets for free up to 1 hour in advance if your plans change
Entry to all attractions is subject to availability, we recommend booking entry times in advance, especially during peak times or if combining visits into one day.
Alternatively, choose your own combination below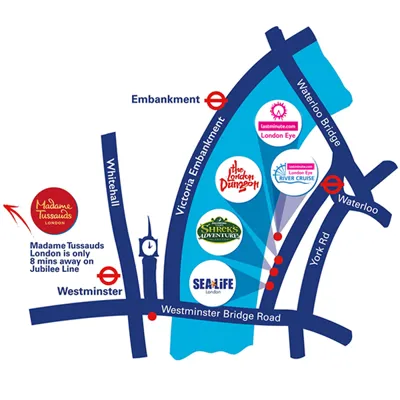 How to find us?
The London Dungeon is located on the Southbank next to SEA LIFE London Aquarium and the London Eye, and Madame Tussauds is only a short 8 minute tube journey away
There's also plenty of places to eat and drink nearby, whether you're looking for a quick bite or a sit-down meal. 
Already have a multi-attraction ticket?
It is essential to pre-book your visit date and timeslot before you visit each attraction. You can book it through our booking portal link below.
Reserve your timeslot
Multi-attraction Tickets related FAQs
You can reserve a timeslot to other attraction(s) via our Booking Portal. You can reschedule your booking up to 3 times from the date you visit the London Dungeon.
This is to ensure you have guaranteed entry to your chosen attraction(s) as each attraction has limited capacity and operate at a first come first serve basis. To avoid disappointment, please reserve your timeslot(s) via our Booking Portal at your earliest convenience.
The timeslot you reserved at the time of booking is for the London Dungeon only.
Please ensure you log into your account and book a free timed-entry ticket before you visit each attraction, all you need is the confirmation number and email address used for the ticket order. 
>> Log in to manage your booking here
Does your pass include Big Bus?

Big Bus tickets do not require timed entry. You can simply show your ticket at any time within 90 days of visiting the London Dungeon.
Your ticket remains valid for 90 days starting from the date of your visit to the London Dungeon. To ensure your preferred time slots, we advise booking in advance, especially during peak periods like weekends and school holidays, as availability may change. Please note that peak times tend to fill up quickly, so anticipate limited availability if you attempt to reschedule close to these busy periods.
Yes - just head over to our Booking Portal. You have the flexibility to reschedule your booking up to 3 times at no additional cost. Once logged in, you can easily view the remaining number of amendments allowed for your booking.
Multi-Attraction Ticket Terms & Conditions
Tickets are valid for one use only. For the London Dungeon, guests 15 years or younger must be accompanied by a guardian 18 years or older. All tickets are subject to availability, non-chargeable, non-refundable, and not for re-sale. Ticket prices may be subject to change. Savings based on purchase of standard adult tickets on the day. Savings vary depending on combination of tickets and passes purchased. Tickets for all attractions must be booked into a time slot for entry, please exchange at the relevant attractions or log into the booking portal. Full terms and conditions apply and are available on request.